About Max Yeo
i have many names...
Or "labels", which includes: The Perfectionist, The Crazy One, The Ideal Man, The Idiot, The Stubborn, The Inflexible, The Blunt, The Mind F*cker, Tetra Earth Fire and many more. And one by one, i should unveil each facet of my personality on YouTube in time to come for people to know more about me. In case you are procrastinating in your life, thinking that you are a Perfectionist too. Watch the video below to explore your thoughts.


i was a regular in the RSAF for 19 years of my life, it was ok until Covid was almost over... Not that I have gotten it, and funny enough my wife was tested positive after i quit my job in Oct 2021, but i wasn't infected by her despite sharing meals. 😇


My job was good in the sense that it is pandemic-proof, recession-proof, even if you are a lousy worker, you won't be sacked as long as you don't commit any crimes like drink driving. It's what people would call an "iron rice bowl", which i would add on "with a rusty taste". Reminder: Please don't ever drink and drive, or even texting with fingers while driving.


Throughout the peak of the pandemic, i continued my regular commute to work, often travelling on near-empty buses and train carriages that resembled scenes from a post-apocalypse movie. This unique experience prompted me to reconsider my career path and explore my lifelong dream of becoming a marketer and content creator. The rapidly digitizing world presented both opportunities and challenges, and I didn't want to delay my entry into this field anymore with stiff competition and the exploitation of prospects by overpriced gurus in mind.


I didn't even think of the fragility of life when SARS hit Singapore back then. Maybe approaching 40 played a big part in this decision as I realized the importance of pursuing my dreams and taking more risks. Thinking that at 40+, i don't know how many ten years i can have... I have already outlived some "kids" i met. Some relatives and friends didn't even pass the 60 mark... 🪦


To think that i actually started my Internet Marketing Journey in 2005 or even earlier... Somehow I have come full circle. Here's my proof of commitment since 2006 😁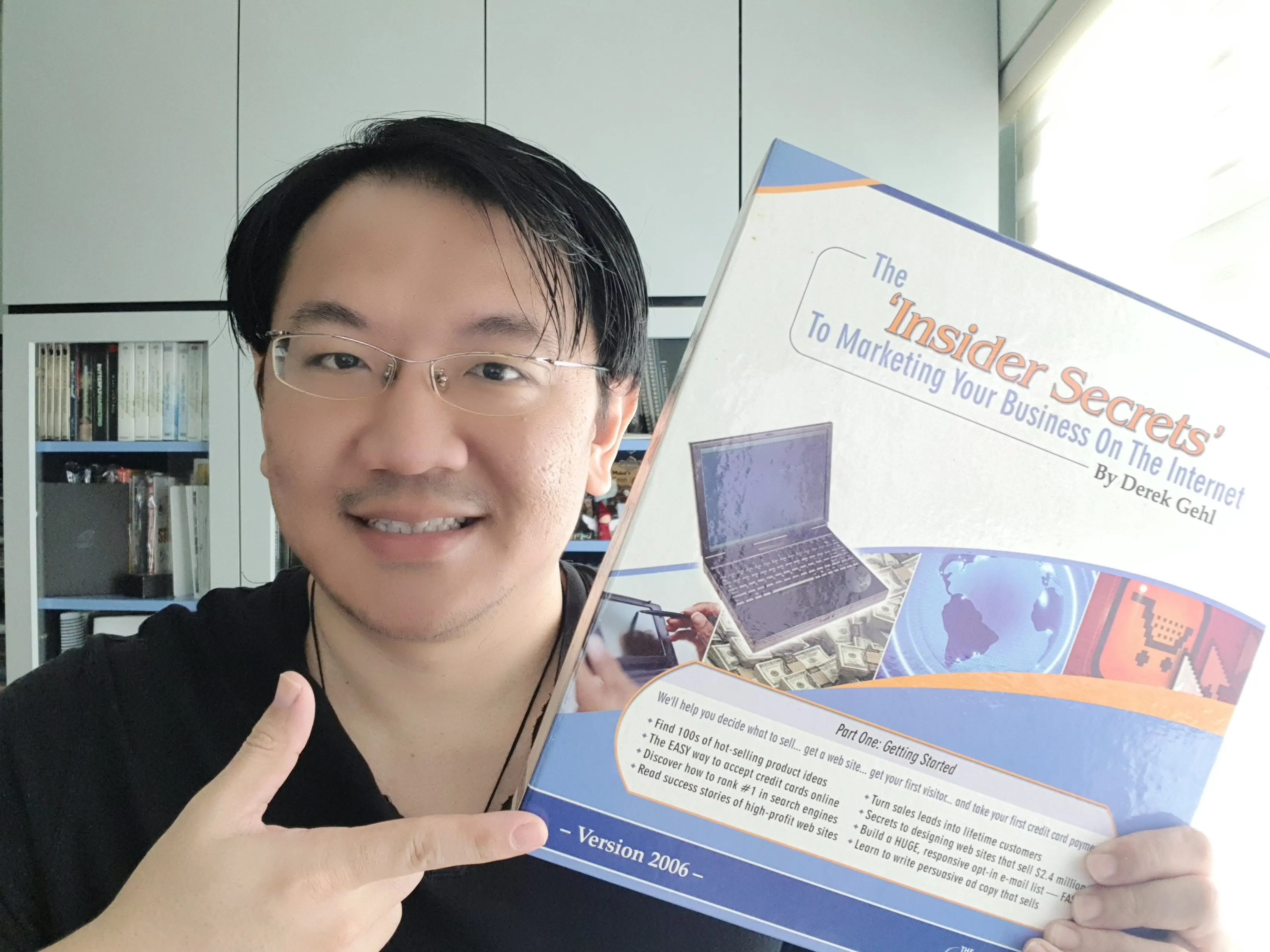 But just like this popular quote that i love...
"Good Is The Enemy Of Great" - Jim Collins
i threw away many great paths in life to keep being on the good and stable path, and of course, i made ZERO money as it would otherwise be illegal being in the military. i kept on learning Internet Marketing as a Hobby, and my passion for marketing grew, envisioning a future career shift, but almost 17years went on...
In life, we will always face difficult decisions and challenging times regardless of our circumstances or wealth. I consider myself a very positive, very creative, and innovative, at the same time pragmatic individual, capable of navigating various life situations mentally, emotionally, and spiritually. Physical wise, i need to train better, and i am a terrible swimmer, don't put me out at sea😅. But i always believe:
"Problems are Our Opportunities to Shine"
i believethere are strength in our weaknesses and weakness in our strengthsas well. So having such qualities to be adaptive and resilient, also implies that i have a very big comfort zone, taking difficult things in my stride - Tough people last not because they are tough, but simply because they had a reason to last. So for a creative person like me, i have held on for so much longer...
Being in a job where we are told to have Pride, Professionalism, and Passion. At that time, there wasn't much pride as social marketing was new and we were restricted from posting stuff that could led us to be social engineered by "spies". Professionalism wise, i can proudly declare i was one of the best at what i do. Interestingly, i also had great working relationships with seniors who are reputed for being very fierce and demanding. One even told me that he calms downs whenever he saw me😎
Passion was the problem💔. Growing up in an era before Internet, job stability is what we usually look for. My passion was dying inside, the hunger, the fire in me was smothering🕯️. Then i came up with a new Passion❤️ - To engage with the younger generations - NSFs, leading🚩them, influencing them, even manipulating😈them. Sometimes it's a very effective way to get them to learn essential skills, especially skills in life.
Life Skills
Personal Growth, Self-Development, or Self-Improvement has been a big part of my life - Striving to be The Best Version of Myself, making full use of time and leverage my everything to whatever i am doing. My blog ProductiveMax.com, serves as a platform where i share insights and tips on Productivity and Personal Development, aiming to inspire others on their own paths of growth.
At the same time, knowing that my career is impermanent is liberating. Just like everything in life is transient. I began to have fun poking people above me, bringing some to enlightenment, while some who sit on their position with age and rank to their knees. It became my psychological playground, but of course my career path suffered for that, so definitely not a career advice especially in a hierarchy structured organization. It's more of a "burn the boats to take the island" kind of life tactics, which could resulted badly if your soldiers are not well trained and resources not well prepared.
As Steve Jobs said it best: "We can only connect the dots backwards" . Towards the end of my career, i had the most amazing 15 weeks course - It was as though this was what i was waiting for before making a transformation.
Usually i could outsmart people around me, especially those entitled ones. Then i met my "Shifu". If i am Po🐼 in the Kungfu Panda, he is my Master Oogway🐢. Well, i had a Master Shifu, the red panda, among my peers too. He humbled me, enabling me to see more things way more. In the end, i even got the "Dragon🐉 Warrior Scroll" (DG) that i declared to achieve on Day1 - Power of Committed Goals and Accountability as
"Desire Drives Destiny"
I like to look at things in many perspectives especially in other people's shoes to "Convince, Con, or Confuse, and even Counter" them, which i was very sharp at and had a fun time playing the Devil. It's like how i have always live around the needs of people around me, but somehow i never really look at things from my very own perspective and for once, in my life, i experienced the Power of Coaching.
As to whether i would become a Coach myself, i don't think i have the patience😜, even though i was considered the most patient guy when it comes to teaching NSFs. I wasn't patient with my peers who are supposed to do the right things the right way... And to be a coach, one of the most important skill is active listening, but i like to form perspectives and avatars in my head. And at almost 41, i think my hearing is slightly below average as a result of working in noisy environment for so long. 😅 But then again, never say never...
And i wouldn't call myself a coach as the title of a "Coach" or "Leader" feels like i am putting myself on top of people - which i never like. i even get my NSFs to call me by my name then. i would still apply the coaching skills that i learned, giving out advice (i love sharing if you haven't noticed), on my way to seeking out partners on the same path.
While one might think that i should step up as a Leader, especially after spending so many years in a Leadership-centric Organization. The true meaning of a leader is one that is bestowed by our followers, not by the people above us or an organization.
Back To Internet Marketing
Even my Internet Marketing Blog, iMnotes.com was registered in 2007. i just kept learning, buying more and more Sales and Marketing stuff from the renowned experts: Russell Brunson, Mike Filsaime, Frank Kern, Rich Schefren, Jay Abraham, Mark Joyner, Marlon Sanders, Alex Becker, and many more. Locally, at that time, i was learning from Ewen Chia, the champion in the Affiliate Marketing industry then.


What i really like about Internet Marketing is the Ability to Sell Our Passions to a global audience. Back then, people were making money selling games guide, jumping guide, playing piano by the ear, wire jewelleries crafting, and many more, which would have failed miserably if they try to sell offline. Internet allows us to connect to like-minded individuals or people with similar interest. And maybe because i am a Scorpio, Psychology and Influence behind successful marketing strategies fascinates me.


And somehow in 2021, i also began my crypto adventure, which also propelled my career switch. i was careful but not as careful to avoid FTX😡, but that's another YouTube story to come... (Good thing that i restricted my budget being a first year student in crypto then 🤑) Somehow crypto became a detour, as i got more involved into NFTs, Web3 Communities, Crypto Gaming, and other types of Trading. 😝


I am still investing in Crypto now. Coincidently, the man who started my crypto adventure, also started my video makings. I have followed his training in Sales and Marketing Online for the past 3 years, and many more years to come as long as he is still teaching. Introducing Peng Joon, a Sales Coach with an omnipresence on social media, being a Malaysian also means that he understands our culture more too.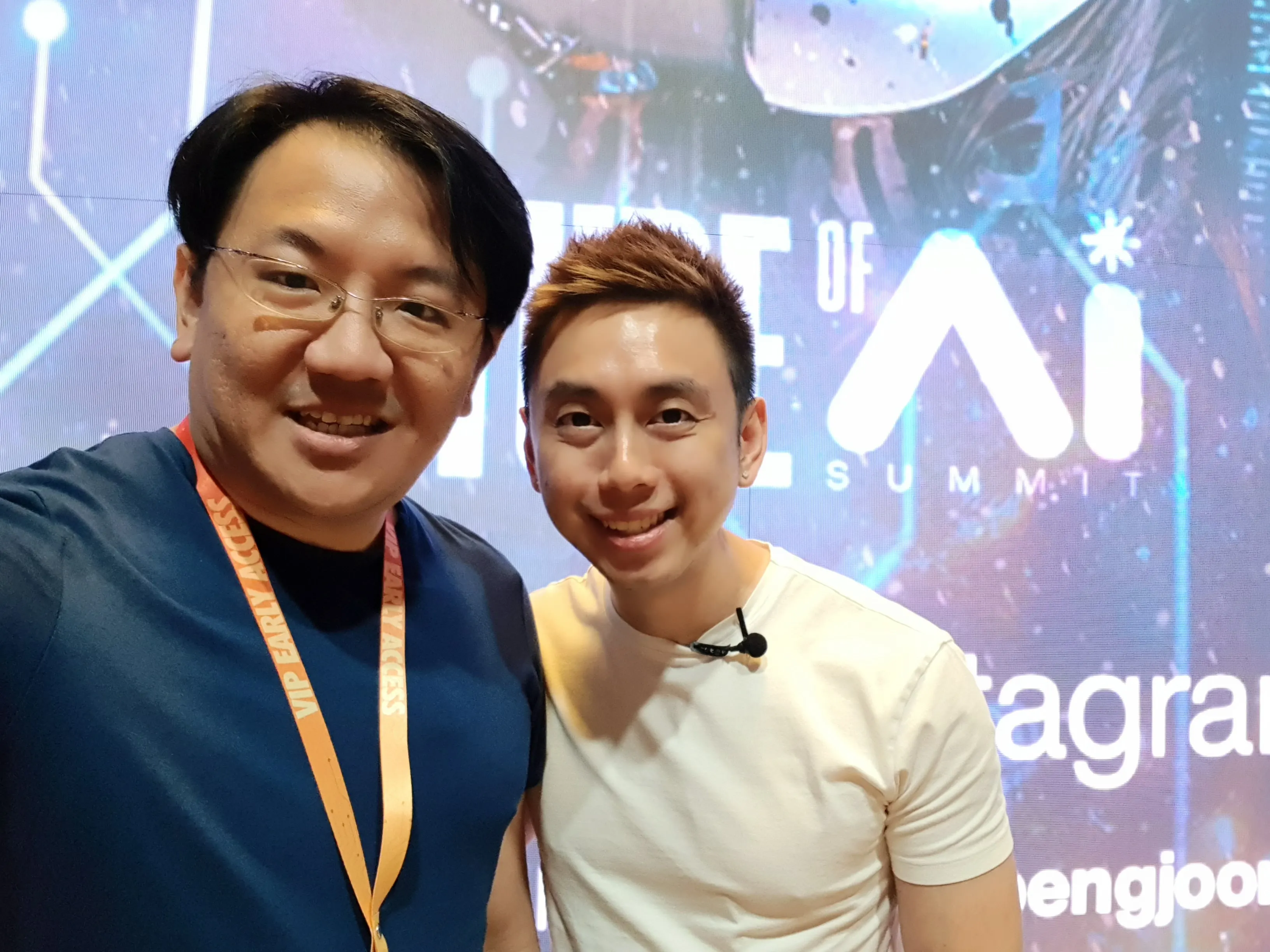 This Photo Almost Never Happened
i wasn't planning to take this photo on 14th July 2023 at 18:57. Seminar ended almost an hour ago, and there he was taking photos with attendees. i would have gone for a nice haircut💇🏻‍♂️, getting facial the night before, and maybe even putting makeup🪞 in the morning for the photo... Sorry for the extra dramatization🤣. i was the last in the queue as i was still thinking about it - "To Do Or Not To Do?" .
i had wanted it to be a reward that i would be looking forward to when i am one of his top affiliate one day. But i was reminded that Life is full of Surprises... (Peng Joon's father passed away the previous week after being bedridden for months). So "Better Grab The Opportunity Now, Not Taking Life For Granted Anymore" .
But in doing so, like fate leading me on, i even got to share a pun with him (Hint: The last in line of his emails🤭) Through our interactions there, turns out he knows a little about me🤩. Guess i did enough for him to take notice on someone who didn't even switch on the web cam in many of his Zoom webinars - i actually only got my first web cam last year. Maybe because i was on fire🔥in his comments sections, winning some prizes in contests too.
While i am now focusing on creating more content, building more websites, finally starting my marketing agency that will be built on his software, Sales Process , this allows me the opportunity to partner with him, to take on clients who can benefit from both of us. i have learned a lot when it comes to marketing and sales, but after all, i am unproven. So in this way i can ride on his proven records - his products and services to deliver my value.
And certainly, i have to be a Power User of the software in order to recommend it to others, so allow me some time to do just that as i always like to prove myself by doing. Sometimes, we need other software to do the job that is already provided in an All-In-One the way we want it. Sometimes we are just better at operating another software. Also understand that each software has it's Pros, Cons, and Glitches - No one software is the best all the time. Just as i always believe:
"The Best Is Always Subjective"
What is good for me, may not be good for you. If you are into Ecommerce, selling multiple products, needing a cart service, i wouldn't recommend you SalesProcess, unless you plan to build a sales page for each product, Groove would be a better fit. All software needs upgrade from time to time to maintain its reliabilty, relevancy, and proficiency. At the same time, we can get better ourselves in duct-taping software to work in harmony or having workarounds.
i would also say that i am a more technical person, thus i needed someone like him who is good with People. Just by watching his YouTube videos, we could learn a lot, especially those with hotseats where he train his mentees. Or simply attend live and see the magic happens yourself. Peng Joon has online events from time to time, some are even free.
For full transparency, i have not sign up for his mentoring, simply because as a content creator, i don't have any products or services to sell in a Sales Funnel style website. And at that time, he mentioned that there are no secrets in there, just more hand-holdings, which i didn't need as i had years of experience in this industry. But i will definitely sign up when i get to 20 affiliate sales so that i would be in a better position to advice my clients partners.
Another thing about Peng Joon, in case you didn't know him is that he has been a speaker for ClickFunnels Funnel Hacking Live events, and many ClickFunnels well-known users and coaches attributed their success to his teaching too. The list includes Alison Prince, Dan Lok, Eileen Wilder, Kaelin Poulin, Myron Golden and many more. Even Pedro Adao can't help but mentioned him in the recent ClickFunnels Challenge Secrets Masterclass.
He is also recommended by Russell Brunson, the founder of ClickFunnels himself as Peng Joon won the Number One Affiliate for his 2 book launches, Expert Secrets and Traffic Secrets, beating Tony Robbins, Dean Graziosi, Grant Cardone, Tai Lopez, Dan Henry, Steve Larsen, John Lee Dumas, Jim Edwards, Jeff Walker, the first book DotCom Secrets #1 Affiliate, and many more - People with much more followers and bigger mailing lists than him.
And ultimately if you are considering to have a high ticket mastermind experience without traveling all the way to USA. In my opinion, he is the best choice in Asia.